BAZYLIOWY HUMMUS / BASIL PESTO HUMMUS

Uwielbiam hummusy, wszelkiego rodzaju, klasyczne, z suszonymi pomidorami, z papryką… Dzisiaj wersja z bazyliowym pesto. Wszystko domowej roboty w związku z czym przygotowanie zajmuje trochę czasu, ale efekt końcowy jest wart tego o oczekiwania.
Przepis na klasyczny i pomidorowy hummus już jest jakiś czas na blogu, dzisiaj hummusowe wariacje.
---
I love hummuses, all kinds, classic, with dried tomatoes, with pepper… Today I'm making basil pesto hummus. Everything is home-made so the preparations take some time, but it's worth waiting!
The recipe for classic and dried tomatoes hummus is on the blog for some time now, today we'll be doing only the hummus variations.
SKŁADNIKI:
Hummus:
100 g suchej ciecierzycy
10 g oliwy z oliwek
100 g pesto
2 łyżki tahini
sok z cytryny, czosnek
woda, sól
Pesto:
100 g świeżej bazylii
90 g oliwy z oliwek
50 g nasion słonecznika
50 g cheddara
czosnek
Tahini:
100 g sezamu
50 g oleju/oliwy
---
INGREDIENTS:
Hummus:
100 g dry chickpeas
10 g olive oil
100 g pesto
2 tablespoons of tahini
lemon juice, garlic cloves
water, salt
Pesto:
100 g fresh basil
90 g olive oil
50 g sunflower seeds
50 g cheddar
garlic cloves
Tahini:
100 g sesame
50 g oil/olive oil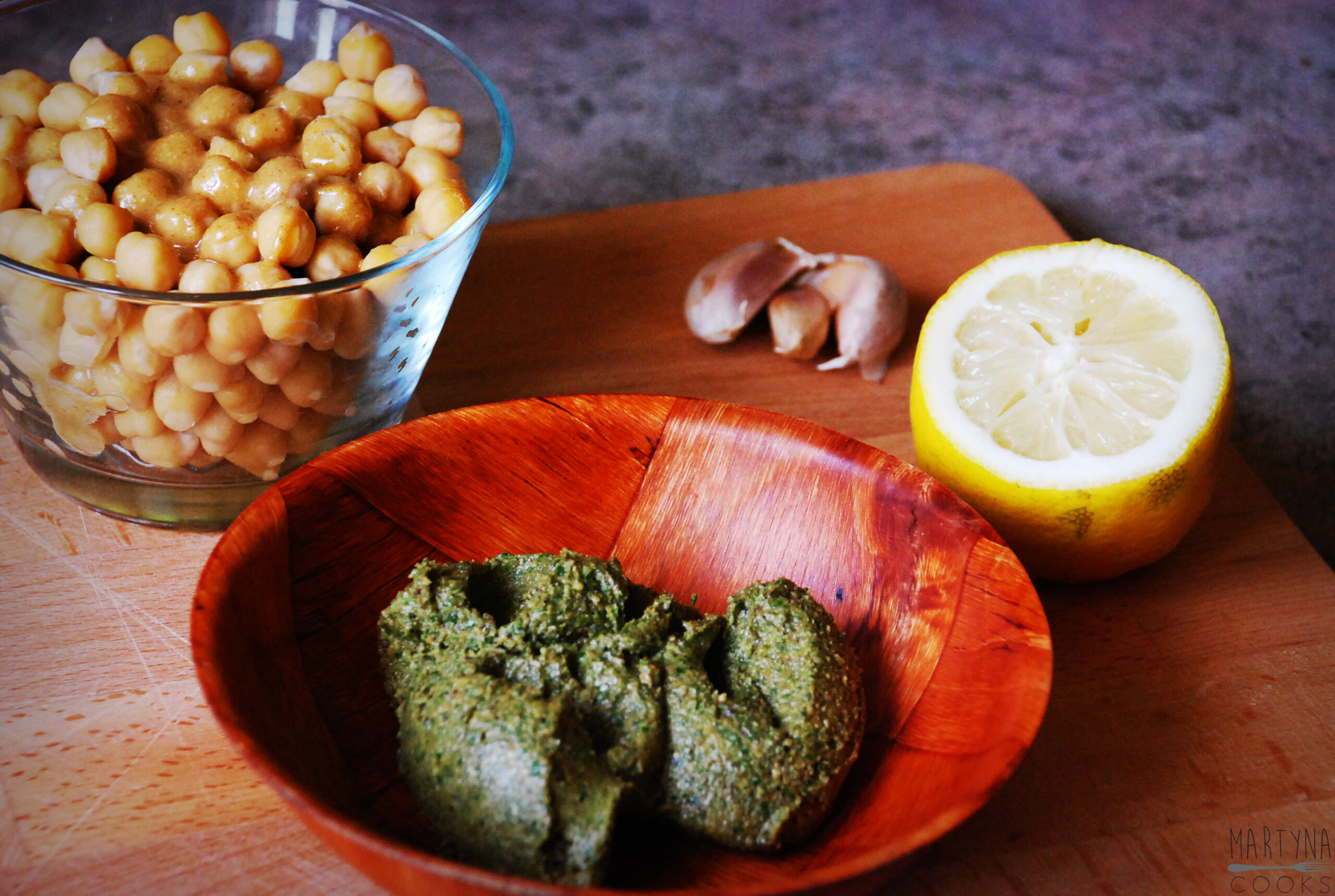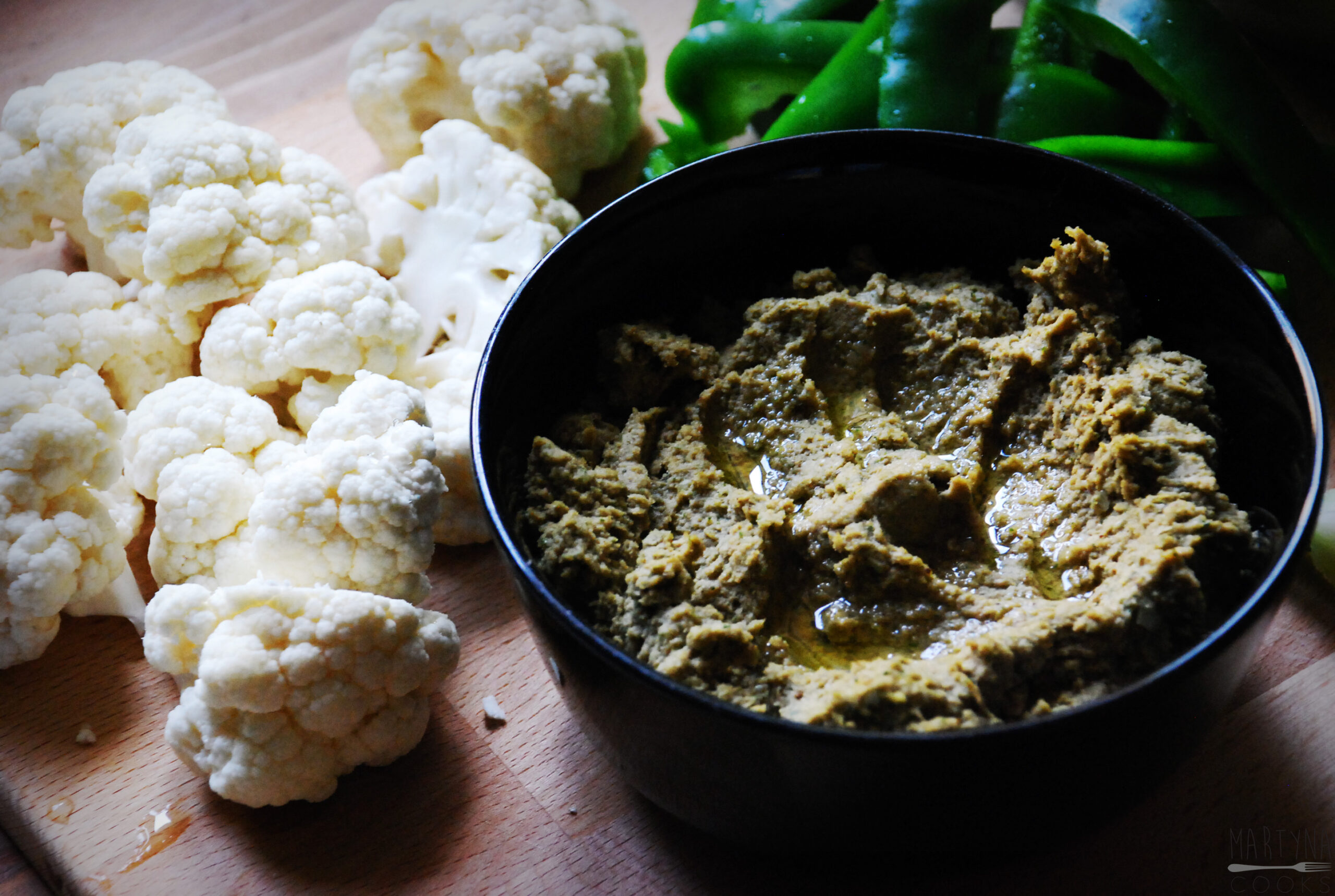 Ciecierzycę namocz, najlepiej zostaw ją na noc w wodzie. Następnego dnia odcedź, zalej w garnku świeżą wodą i gotuj na małym ogniu aż będzie miękka, zajmie to około 2. godzin. Po tym czasie spróbuj czy jest miękka i jeśli tak odcedź ją i odstaw do ostygnięcia.
W międzyczasie, jak ciecierzyca się gotuje, zrób pastę tahini. Sezam wysyp na rozgrzaną patelnię i upraż go. Jak się zarumieni wysyp go na talerzyk/miskę, żeby ostygł. Jak ostygnie zmiksuj go blenderem z olejem bezsmakowym (rzepakowym, słonecznikowym) lub oliwą (ale raczej z olejem). Najwygodniej się to robi w wąskim, wysokim naczyniu.
Teraz czas na pesto – jeśli chcesz możesz użyć kupnego, jeśli, tak jak ja, wolisz robić wszystko we własnym zakresie teraz jest na to czas. Ziarna słonecznika upraż na rozgrzanej patelni. Dorodny krzak bazylii oskub ze wszystkich liści (jeśli krzaczek jest mizernawy radzę użyć dwóch, bo po zmieleniu liści niewiele tego jest). Wszystkie składniki wrzuć do blendera i miksuj aż do uzyskania jednolitej masy.
Wszystkie składniki hummusu umieść w robocie i miksuj do uzyskania gładkiej, jednolitej konsystencji. Gdyby hummus był za gęsty dodawaj po odrobinie wody ciągle miksując. Niestety moje sprzęty kuchenne nie są najlepsze, więc ja zawsze muszę dodatkowo hummus blendować ręcznie, żeby uzyskać pożądany efekt.
---
Leave the chickpeas for night in a bowl with water. The next day drain it, put in a pot and pour fresh water in it, slow cook it until soften, that will take approximately 2 hours. After that time check if it's soft and if yes drain it and leave to chill.
In the meantime, when the chickpeas is cooking, let's make the tahini past. Put the sesame seeds on preheated pan and fry it until gets brownish, when it does, put it on a plate/bowl to cool down. When it has cooled down mix it with oil with a blender, use oils that have no taste rather than olive oil. The best vessel to do it is high and narrow.
Now it's time for pesto – if you wish you can buy one, but if you like to everything on your own (as I do) now it's the time. Fry the sunflower seeds on preheated pan. Take all the leaves from a well grown basil bush, if it isn't big, take two smaller bushes, cause after blending it there's very little left. Put all he ingredients to the blender bowl and mix until it will combine to a smooth paste.
Put all the hummus ingredients in a food processor bowl and mix it until it will be smooth. f the hummus is too thick add a splash of water mixing constantly. If your processor won't make a smooth paste, as my isn't, use blender to make it the way it should be.
I to by było na tyle. Z takiej ilości skłdników powstaje około 350 g hummusu. Nie jest to niskokaloryczna przekąska, ale za to bardzo zdrowa.
---
And that's it. From that amount of ingredients you'll get around 350 g of hummus. It isn't low calorie snack, but it's very healthy.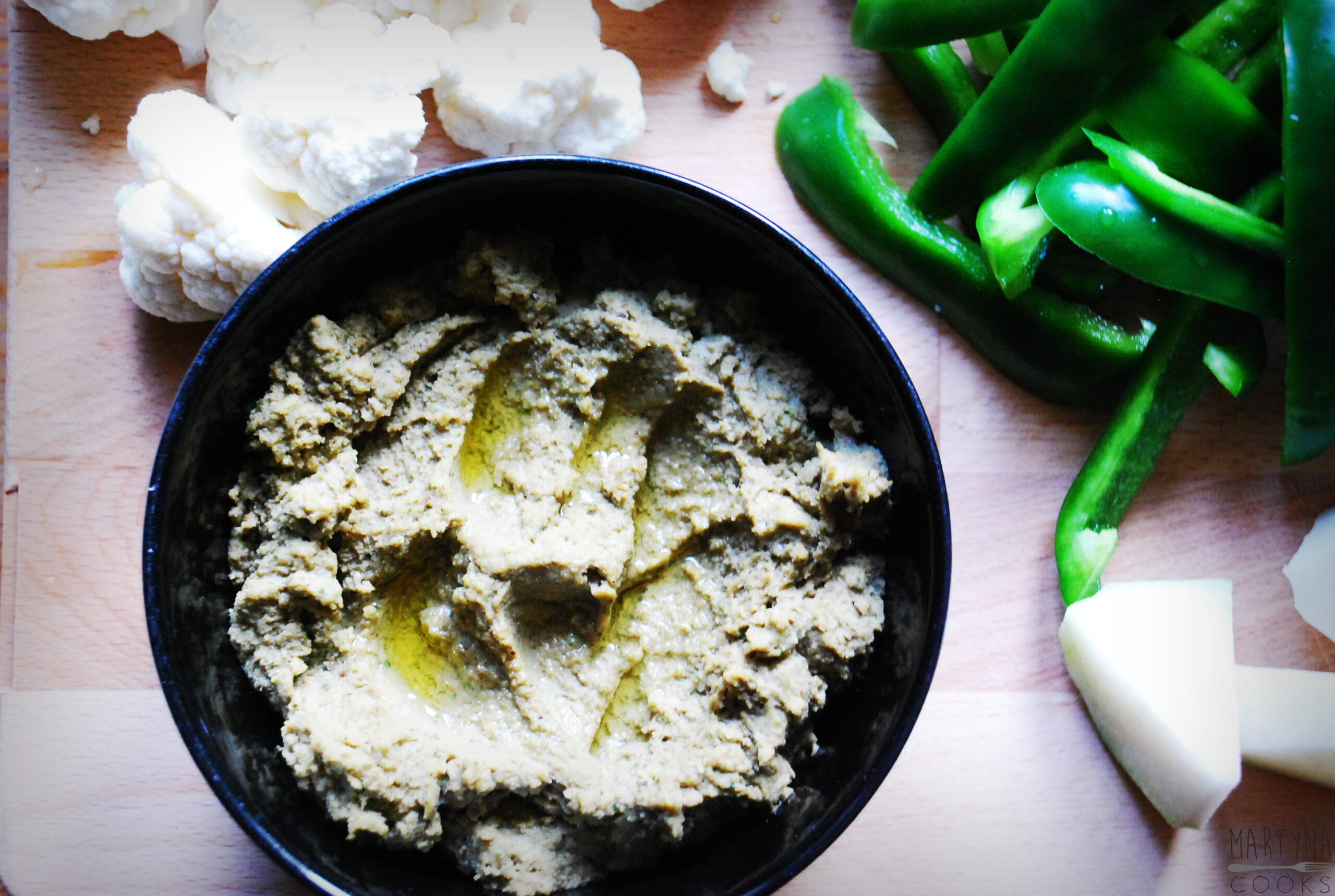 Nutrition Facts
Serving Size 50 g
Number of Servings 7
---
Amount Per Serving
Calories 262
Calories from Fat 162
% Daily Value*
Total Carbohydrate 17g
6%
---
*Percent Daily Values are based on a 2,000 calorie diet. Your daily values may be higher or lower depending on your calorie needs.