BURGERY WOŁOWE / BEEF BURGERS

Dobry burger nie jest zły, nie trzeba wydawać bajońskich sum na jedzenie na mieście, spokojnie można zrobić pyszne burgery w domu. Sprawa jest bardzo prosta, wystarczy kilka ulubionych składników, kawał mięsa i ulubiona bułka.
Jeśli macie maszynkę do mielenia mięsa zawsze kupujcie mięso w kawałku – wtedy i tylko wtedy wiesz co zostało zmielone i co znajduje się w porcji mięsa. Do dzieła!
---
A good burger ain't a bad thing, you don't have to spend a lot of money and eat out, you can easily make a perfect, tasty burger at home. It's very simple, you just need few favourite ingredients, a piece of meat and favourite bread.
If you have a meat grinder, use it, buy a piece of meat – this the one and only way to be sure what was minced and what's in  portion of meat you're about to eat. Let's cook!
SKŁADNIKI (3 porcje):
ok. 500 g wołowiny (u mnie łopatka)
2 ząbki czosnku
sól, pieprz, chili
1-2 łyżki zimnej wody
3 ulubione bułki
3 plasterki sera
pomidor
ogórek świeży
ogórek konserwowy/kiszony
czerwona cebula
sałata/rukola
sos czosnkowy (jogurt, majonez, czosnek, sól, zioła)
ketchup, majonez, musztarda
u mnie dodatkowo był jeszcze chutney z pomidorów oraz chutney z czerwonej cebuli
---
INGREDIENTS (3 portions):
approx 500 g beef (shoulder)
salt, pepper, chilli
2 garlic cloves
1-2 tablespoons of cold water
3 favourite burger rolls
3 slices of cheese
tomato
fresh cucumber
pickles
red onion
lettuce/rocket
garlic sauce (yogurt, mayonnaise, garlic, salt, herbs)
ketchup, mayonnaise, mustard
I've also added hot tomato chutney and red onion chutney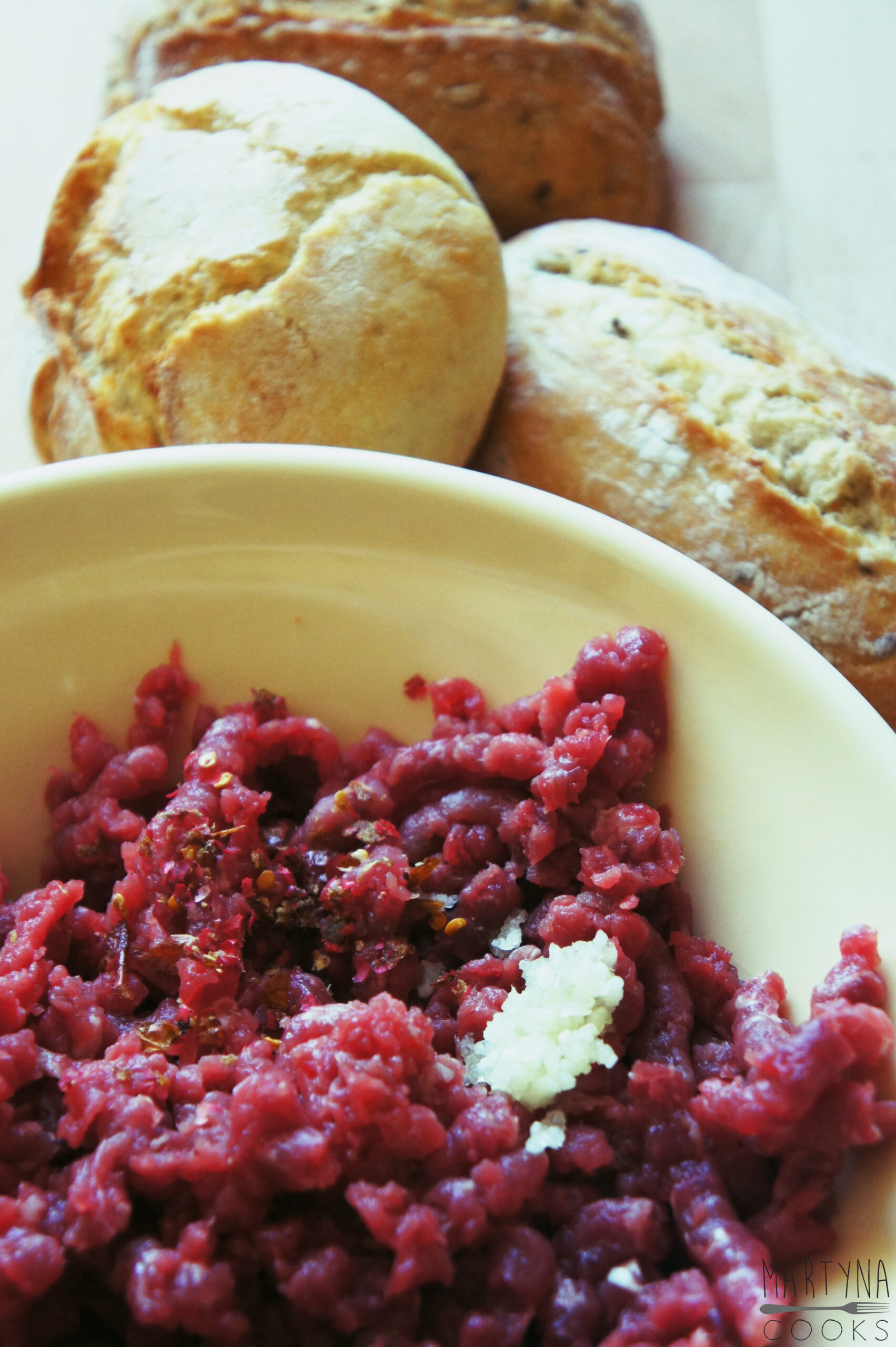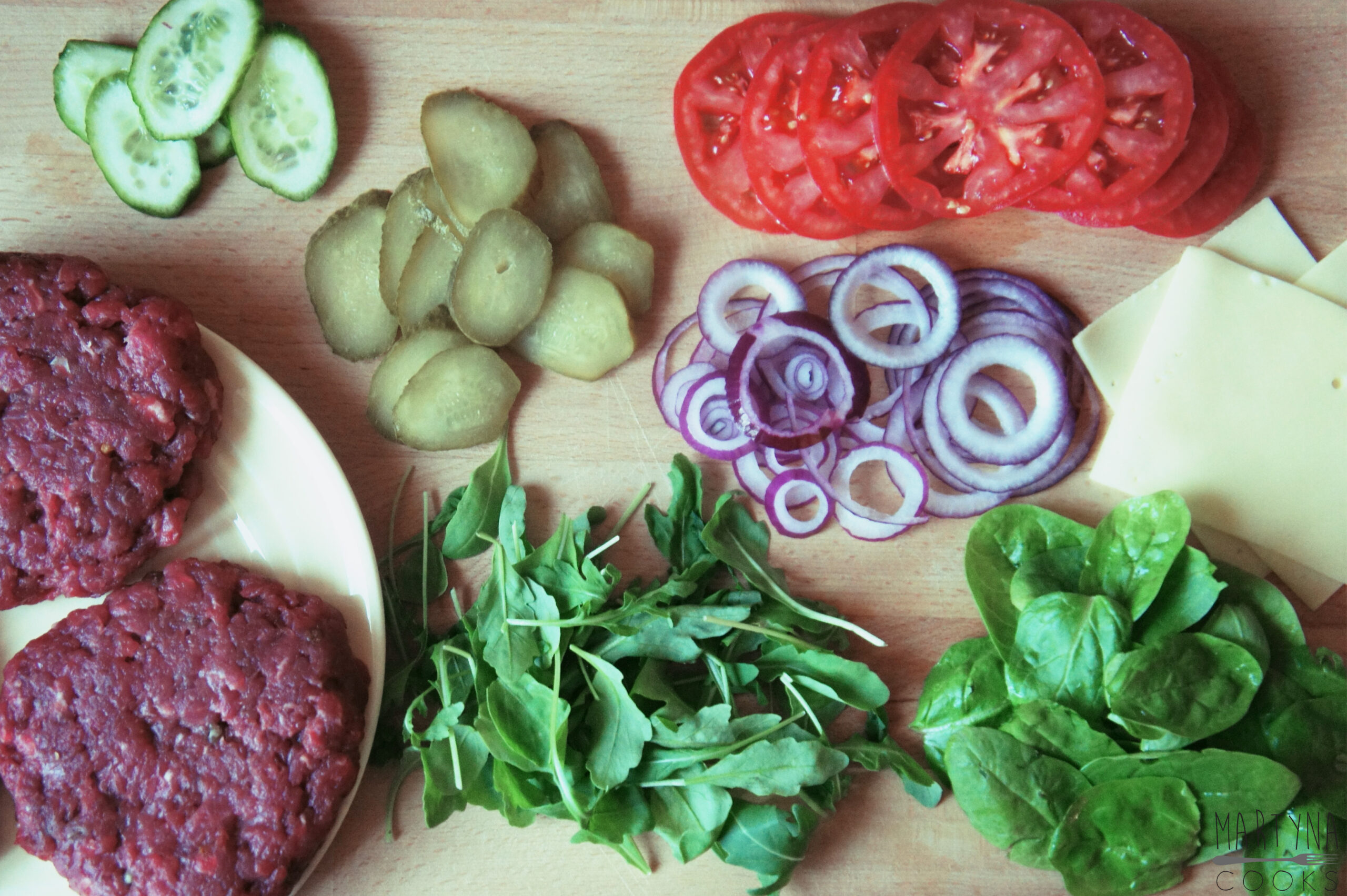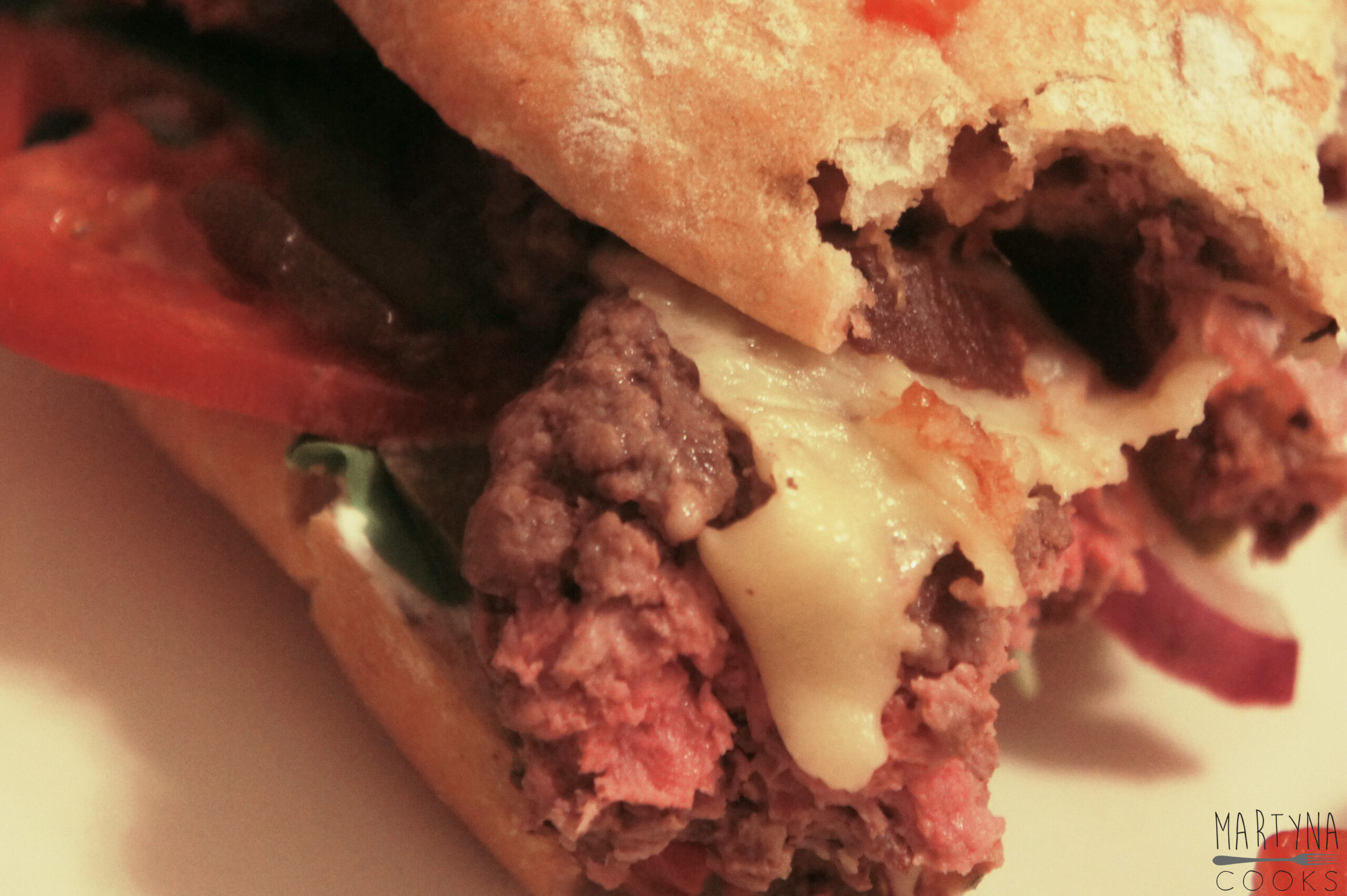 Mięso umyj, osusz, pokrój na kawałki mieszczące się do maszynki, usuwając przy okazji brzydkie części mięsa, zmiel. Do mięsa dodaj przyprawy, czosnek i wodę – dokładnie wymieszaj i odstaw na bok.
Warzywa umyj, osusz i pokrój w plastry. Sałatę porwij na takie kawałki, które łatwo będzie układać na bułce. Zrób sosy – składniki umieść w miseczkach i wymieszaj.
Rozgrzej patelnię grillową, lekko posmaruj olejem. Z mięsa uformuj trzy kotlety, takiej wielkości, żeby idealnie mieściły się do bułki, będą miały mniej więcej 7 cm średnicy i 1,5 cm grubości. Smaż z jednej strony około 1,5-2 minut, przewróć na drugą stronę, połóż plaster sera na wierzchu i smaż dalej, aż mięso będzie gotowe. Zdejmij je z patelni i odstaw na kilka minut, żeby "doszło".
Najlepszą zabawą, oprócz jedzenia, jest składanie burgera, warto się tym podzielić z przyjaciółmi, dlatego ja nigdy nie jem burgerów sama w domu 😉
Rozkrój bułkę, możesz ją lekko podsmażyć na suchej patelni albo włożyć na chwilę do piekarnika, ale nie jest to warunek konieczny. Dla mnie najlepszą kolejnością układania burgerów jest: najpierw smaruję wierzch i spód bułki sosami, górę innym, dół innym, na sosy lądują chutneye, również inny na górze, inny na dole. Potem na spodzie lądują liście sałaty i/lub rukoli, na to plastry pomidora i cebuli. Na cebuli kładę mięso, na mięsie ogórki i koniec – przykrywam wszystko wierzchem bułki, lekko zgniatam i zaczynam się brudzić jedząc.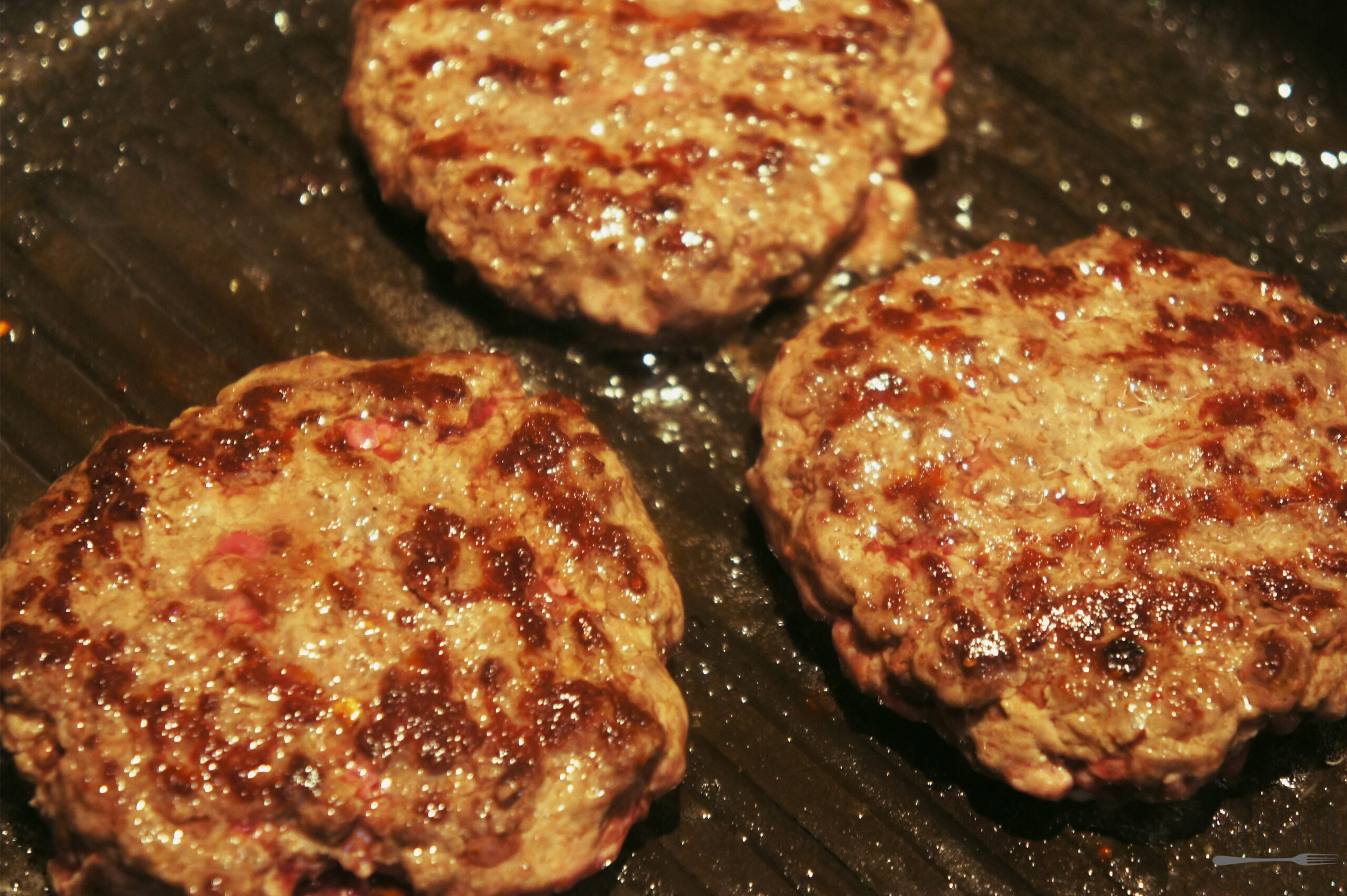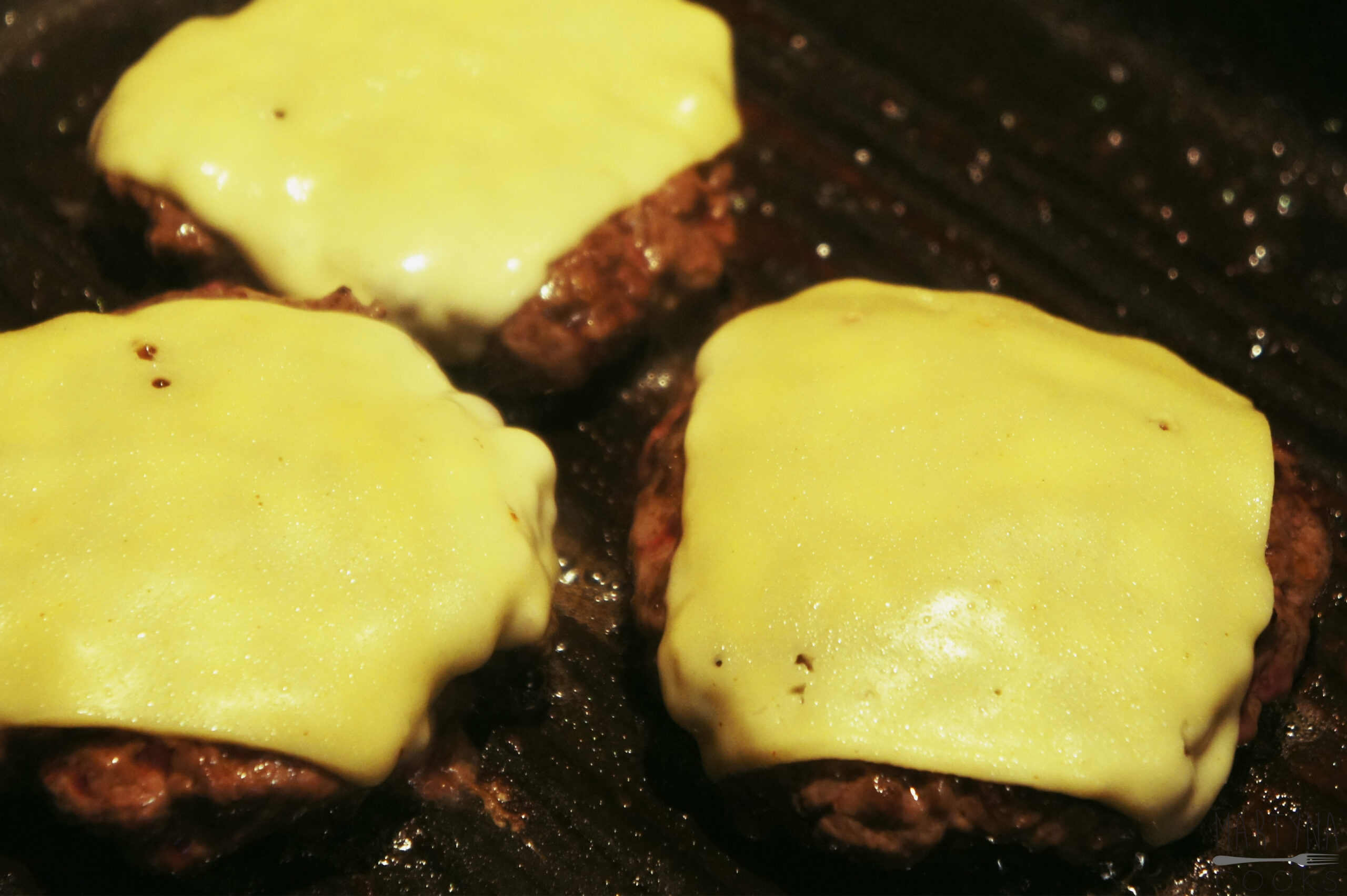 Wash, dry and cut the meat into pieces that can fit the meat grinder, remove bad looking pieces of meat, mince it. Add the spices, garlic and water – mix carefully and put aside.
Wash the vegetables, dry them and cut in thin slices. Tear the lettuce into pieces that will fit the bread. Make the sauces – put the ingredients into bowls and mix them.
Preheat the grill pan, put a bit of oil on it. Form three burgers, they should be same size as the bread is so they'll fit it, more or less they'll have 7 cm diameter and 1,5 cm thickness. Put them on the pan and fry for about 1,5-2 minutes one side, turn it, put a slice of cheese on it and fry further until the meat is ready and cheese melted. Take it off the pan and let it rest a bit.
The best fun, apart of eating a burger, is to put all the ingredients together, it's also fun to do it with your friends, I never eat the burgers when I'm home alone 😉
Cut the bread into half, you can fry it for a moment on a dry pan or bake it a bit in preheated oven, but it isn't something you have to do. Fir me the best order to make a perfect burger is: first put sauces on the top and bottom of the bred, the top with one and the bottom with other sauce, I also put the chutneys on the top and bottom of the bread, again different on the top and bottom. Then on the bottom go the lettuce/rocket leaves, tomato and onion slices. On the onion lies the meat, then pickles and fresh cucumber slices and that's it – cover everything with the top of the bread and start get yourself dirty while eating.
Burgery można jeść same albo z jakąś sałatką, u mnie, na zdjęciach była arbuzowa – połączenie tych smaków było bardzo udane! 🙂
---
You can eat the burgers solo or with a some kind of salad, I had, as you can see in the pictures, watermelon one – combination of those tastes was amazing!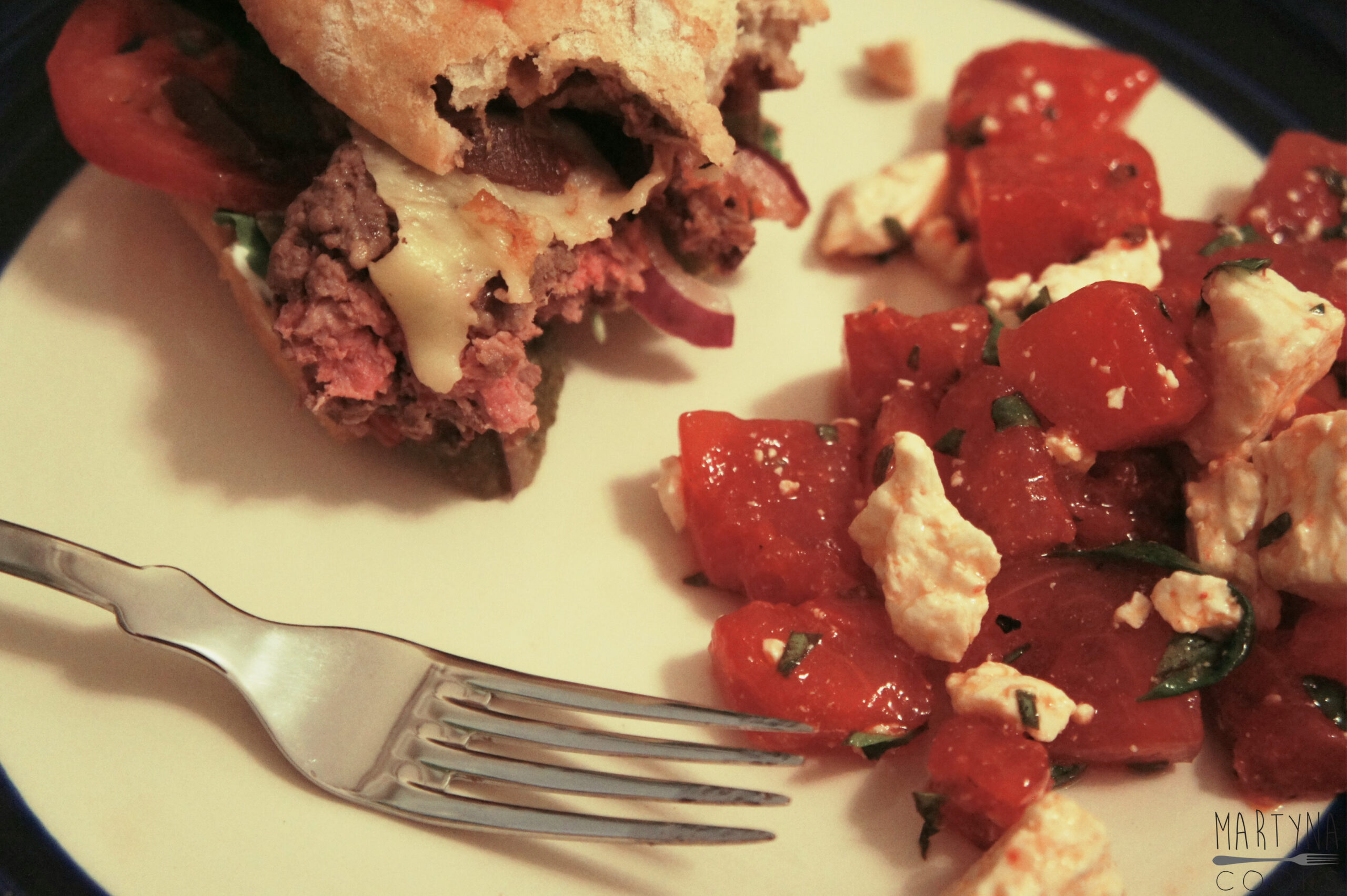 Nutrition Facts
Serving Size 1 pc of meat
Number of Servings 3
---
Amount Per Serving
Calories 168
Calories from Fat 54
% Daily Value*
---
*Percent Daily Values are based on a 2,000 calorie diet. Your daily values may be higher or lower depending on your calorie needs.